Adaptive Learning With LearnDash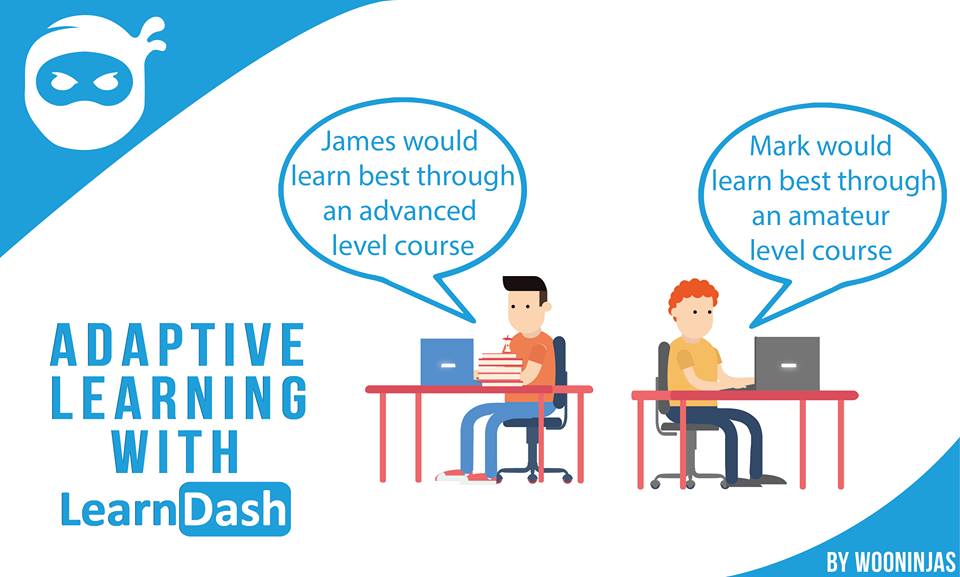 What is Adaptive Learning?
The concept of Adaptive learning comes from the progressive educational model where the underlying idea is that "every student is unique". In other words, you cannot have the same learning path for every student because each one of them has unique skills and capabilities. Therefore, every student needs adaptive  and personalized learning
Applying Adaptive Learning With LearnDash
Adaptive Learning With LearnDash applies the concept of Adaptive Learning to the most popular WordPress LMS plugin LeanrDash. It can enable you to design courses in a non-linear and personalize way for your students, the key idea is to address the unique needs of each learner because every student has a different pace and expertise level for a subject and to follow a linear approach to learning is not natural and is not suitable in a learning environment. Adaptive Learning has also been described as a top trend in eLearning for the year 2019. To achieve this in LearnDash, the add-on enables you to create course levels and deterministic courses called parent courses to examine the expertise level of a student. The percentage score and performance in the quiz/quizzes of a deterministic course can be tied to these course levels and assigned to the respective child courses that will be assigned to students based on the performance in the deterministic course. Consequently, student's will have different learning paths depending on their scores in the deterministic course. The deterministic course such be designed in such a way that it should correctly determine the expertise level of a student based on quiz scores.
LearnDash already provides the option to make prerequisite courses i.e assign a course as a dependency for other courses. This add-on exploits this option and enables site admin to think about these prerequisite courses as "parent courses", and the courses which will be assigned as prerequisites can be considered as "child courses". It extends this ability by allowing the pass mark percentage to the results of a quiz to control access to a child course. We refer to these percentages as Course Levels and you can see how that works below.
Acknowledgment for Adaptive Learning With LearnDash
It was featured as the first video of 2019 by LearnDash
It was specifically acknowledged by Justin Feriman in his Facebook post in the group LearnDash LMS tips and tricks,
The addon is available for LearnDash 2 on the WordPress repository and can be downloaded from here
Please note that this free version is not compatible with LearnDash 3. WooNinjas have released a pro version of this addon which is compatible with LearnDash 3
Affiliate Disclosure: We use affiliate links in our content. It wouldn't cost you anything. However, it helps us offset the cost of producing the content and the offerings. Thanks for your support.