LearnDash Student Voice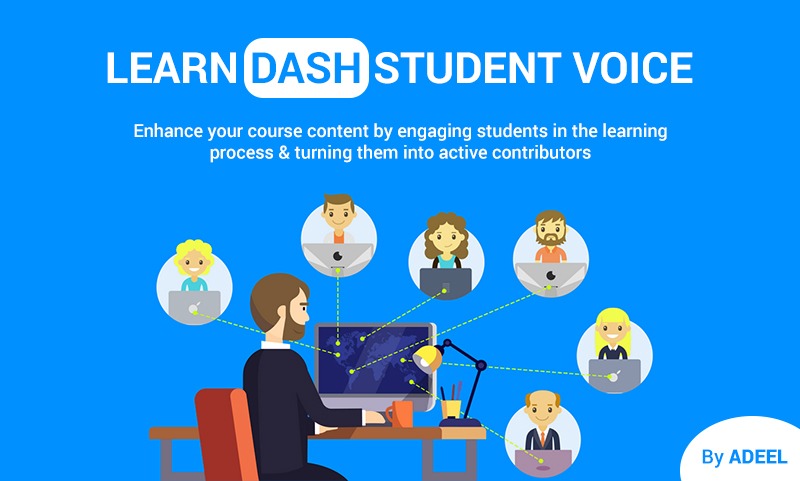 The Idea behind this addon
This comes from the progressive education model where the basic idea is to make "students an active part of learning rather than a receiver of information"
The problem with Online Learning Systems
One of the biggest challenges in E-Learning today is to improve user engagement and completion rates. The average MOOCs course completion rates lie somewhere between  5-15 percent. Now the question is, what makes a learner engaged or unengaged? How do we make sure learners stay engaged and involved, especially when something more exciting is only a click away?
Grattan Institute research has found that well-implemented feedback systems can improve teacher effectiveness by up to 30%. An important part of this feedback system comprises of student surveys. Student feedback in the learning process can help teachers and educators to design a better curriculum and enhance student engagement.

A solution for LearnDash LMS
LearnDash Student Voice was built to address this problem. It can empower and engage your students in the learning process by turning them into active contributors for your LearnDash courses. This addon can turn your students into active contributors for your LearnDash courses and help you as a course creator to improve it through real-time student feedback and contribution on all components of your course
Features
Compatible with LearnDash 3

Contribution and feedback submission on all parts of the course i.e lessons/topics/quizzes/essays/assignment

Allows to send email notification through LearnDash Notification addon on 3 events, contribution submission, contribution heard and contribution approved

List approved contributions on main course page

Download all contributions as a Word document

Provides shortcode to display each student's contribution on a separate page

Separate Admin area to manage all student contributions
Plugin View
Plugin Video Guide
This video is a complete plugin guide for LearnDash Student Voice. It explains all the configurations of this addon and how to use it.
LearnDash Student Voice Plugin Guide
What's New
Catch up with all the latest updates about the addon here
Limitations Of This Addon
This addon is built upon LearnDash Notes addon by Snap Orbital. Therefore it's not compatible with this addon, which means you cannot activate LearnDash Student Voice along with LearnDash Notes.
Pricing Options
Try for free
Try this now on your site for 7 days
$

0.00

No plugin support or automatic updates included in this plan
Featured
Standard
Provides a 1 year license to use on a single site
$39.99 /per year
1 year of bug fixes support and automatic updates on a single site.
Pro
Provides a 1 year license to use on a maximum of 3 sites
$79.99 /per year
1 year of bug fixes support and automatic updates on a maximum of 3 sites.
Lifetime
Provides a lifetime license to use on a live and staging site.
$99.99
1 year of bug fixes support and lifetime automatic updates on a single site.
LearnDash Student Voice
Average rating: 2 reviews
Oct 19, 2019
- Student's Contribution to the course -
I was looking for an addon to get Feedback and Questions from students about my course, and finally found 'Learndash Student Voice'! Easy to set up and not too intrusive in the course: just what I need!
If you also think your student's feedback is a gift, I highly recommend this plugin!
Jul 4, 2019
Almost perfect
Hey Adeel, the ad-don is neat and serves the purpose. Can you please add some friendly reminder feature? students often forget to contribute. Thank you for the hard work, cheers.
Hey Mason,
thanks for the review, will surely consider this suggestion in the upcoming updates of this addon.