BigBlueButton WordPress Plugin - Pro
BigBlueButton WordPress Plugin Pro is a premium addition to our free BBB WordPress plugin.
BBB is an open-source video conferencing tool that is "Built For Teachers". It is pure HTML5, runs within the desktop/mobile browsers & supports high definition 720p video quality.
The pro plugin allows teachers to manage their BBB virtual classrooms right from the WP dashboard & let students join the live class from within the course/lesson/topic page.
Note: It is required to activate the free plugin first to use the Pro plugin.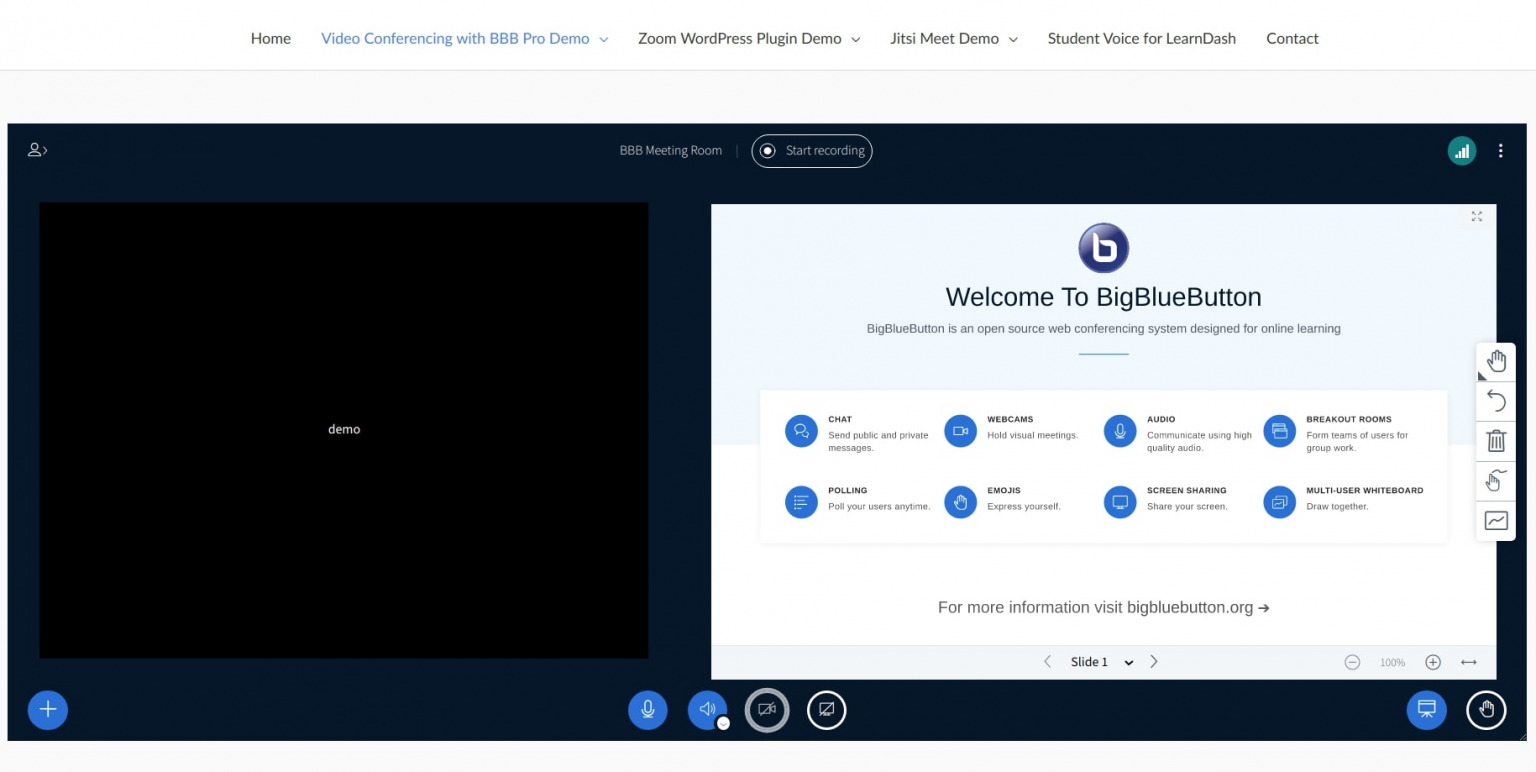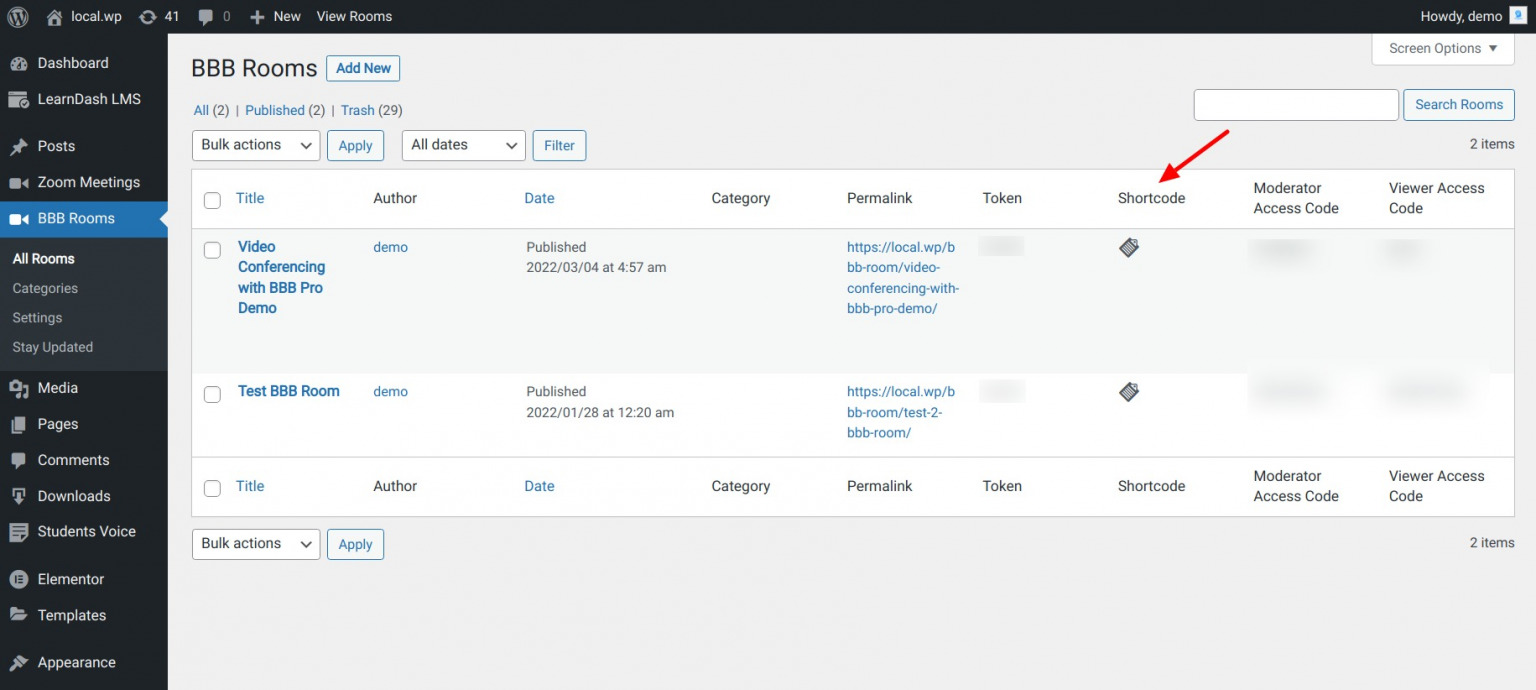 Embed BigBlueButton Room on WordPress
Embed the BBB room window on any of your WP pages or post with a simple shortcode. There is also an option to create the meeting rooms from the default plugin menu.
The on-page room embed feature of the pro plugin makes the virtual classroom an integral part of your course content. It enables a seamless experience, no need to download any additional app or share the meeting link.
It is also a big plus to retain users on your web page is also good for your site ranking and SEO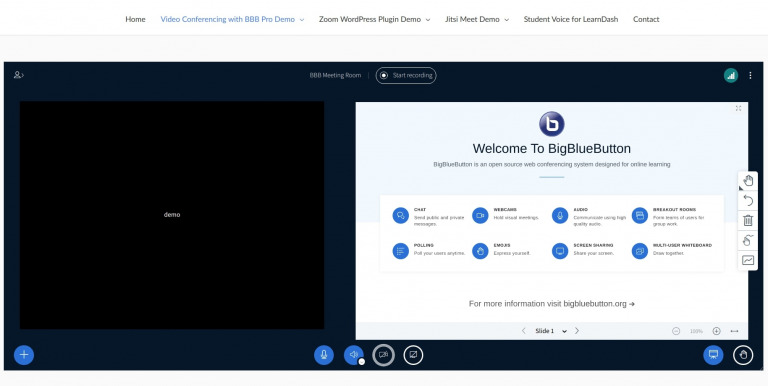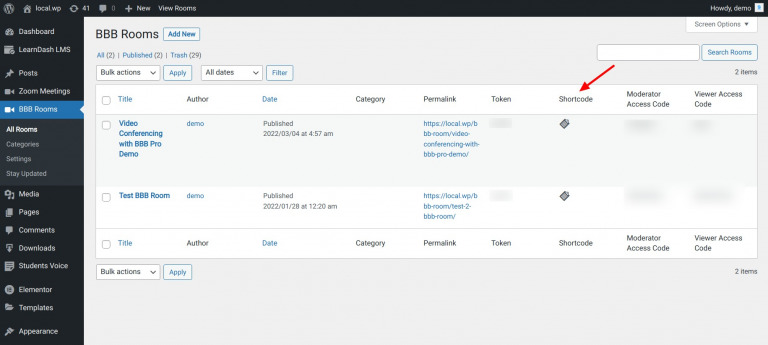 Fully White-label Virtual Classroom
This plugin gives you the added ability to fully customize the Room experience according to your preferences. There are options to:
Limit the max allowed participants for a room e.g (5, 10, .. etc) both on a per room and per page basis. This can allow you to conduct a 1:1 or group session
Upload your brand logo that is visible in the BBB room
Customize the room background-color as per your brand color
Enable/disable distraction-free fullscreen mode
Change welcome message that is displayed in the Public Chat section of the room
Customize thank you message when the user leaves the meeting
Pre-upload your presentation (ability to upload both globally and per room basis)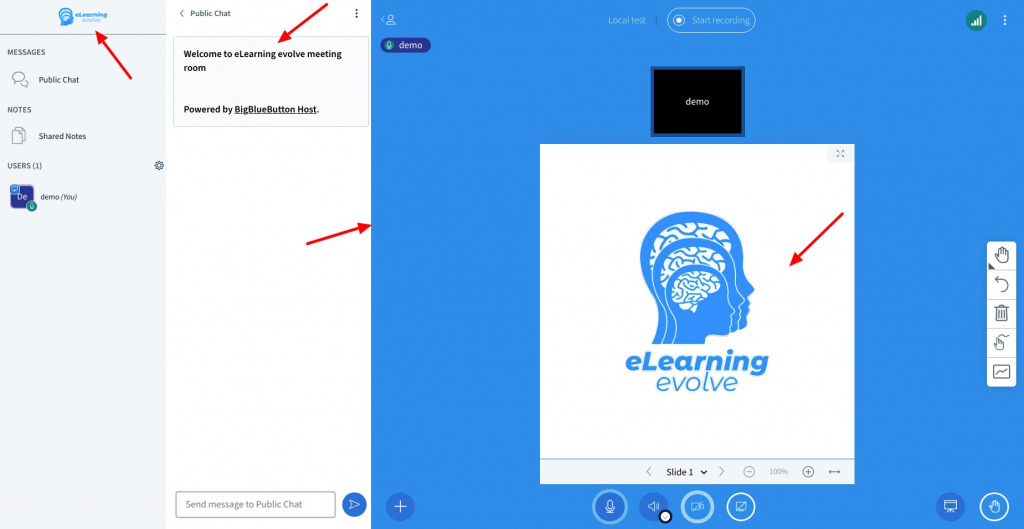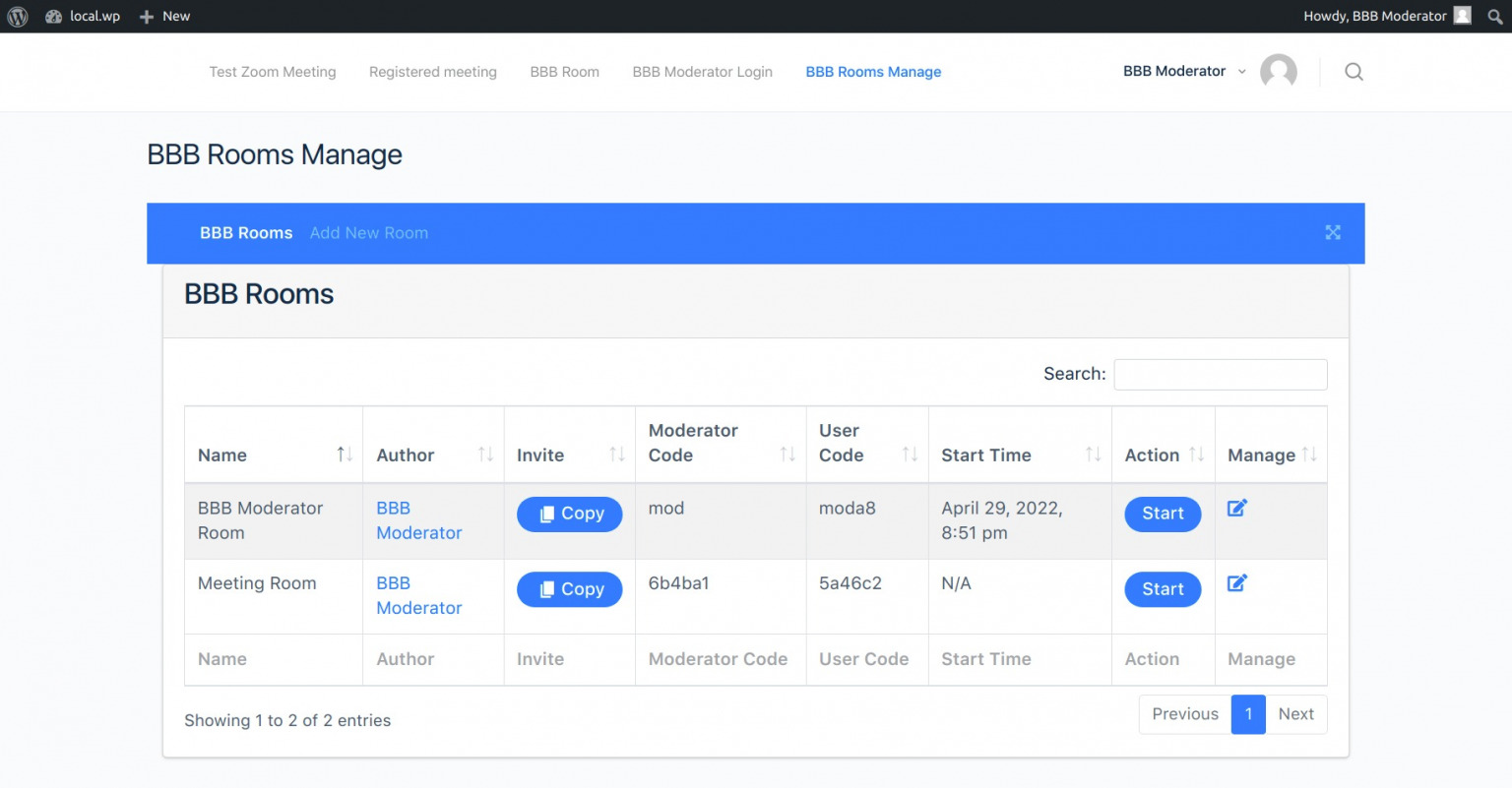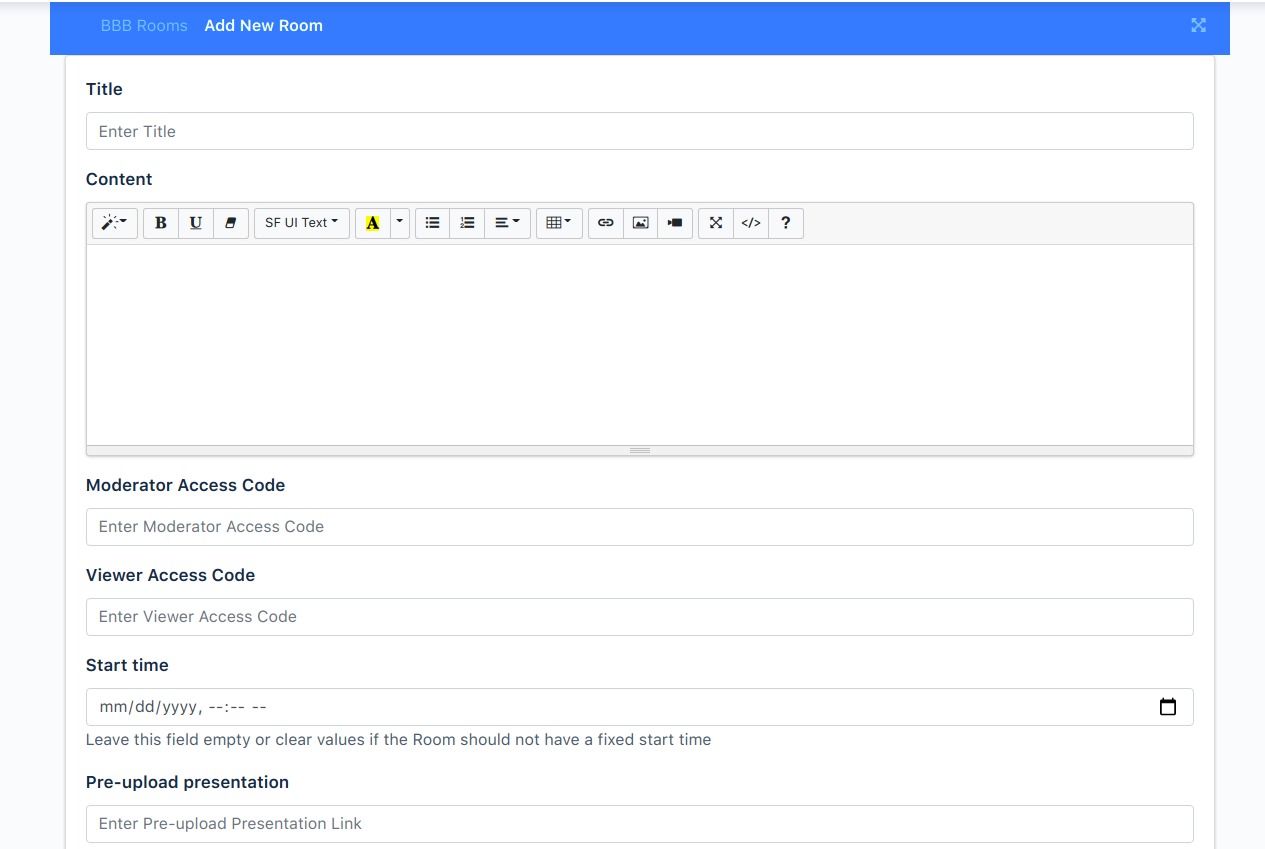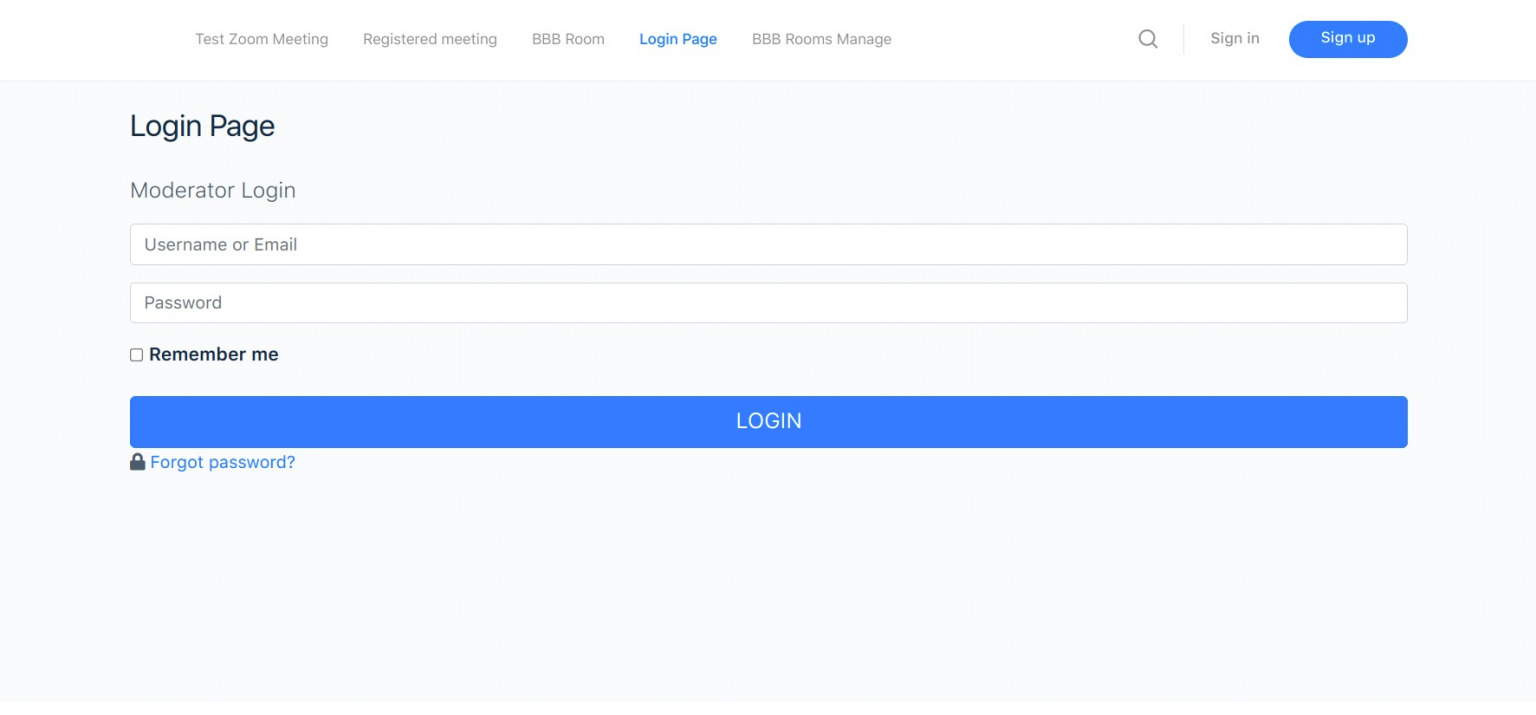 There is a dedicated frontend room management section available where the moderators can view/edit/add their rooms without the need to enter the WordPress dashboard:
To allow a WordPress user to have the capability to add and edit BBB rooms, see our guide on How to allow instructors or users to manage BigblueButton Rooms on WordPress
Separate login page for moderators where they can login to their account and redirect to the frontend room management area
View all rooms and ability to start meeting
Edit the room details including the roomt limit, pre upload presentation link, room start time &  access codes
Add a new BBB room and share invite link with participants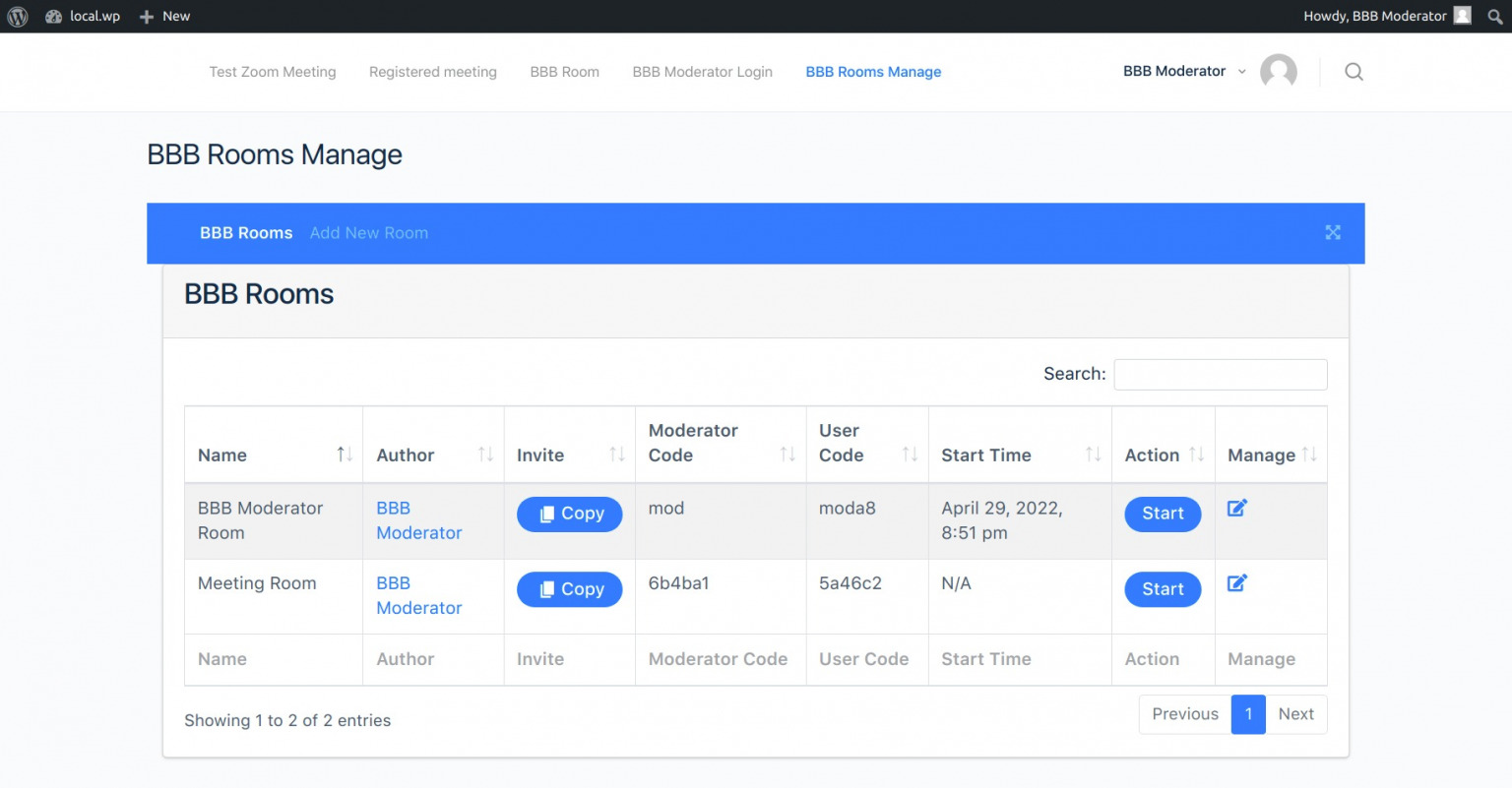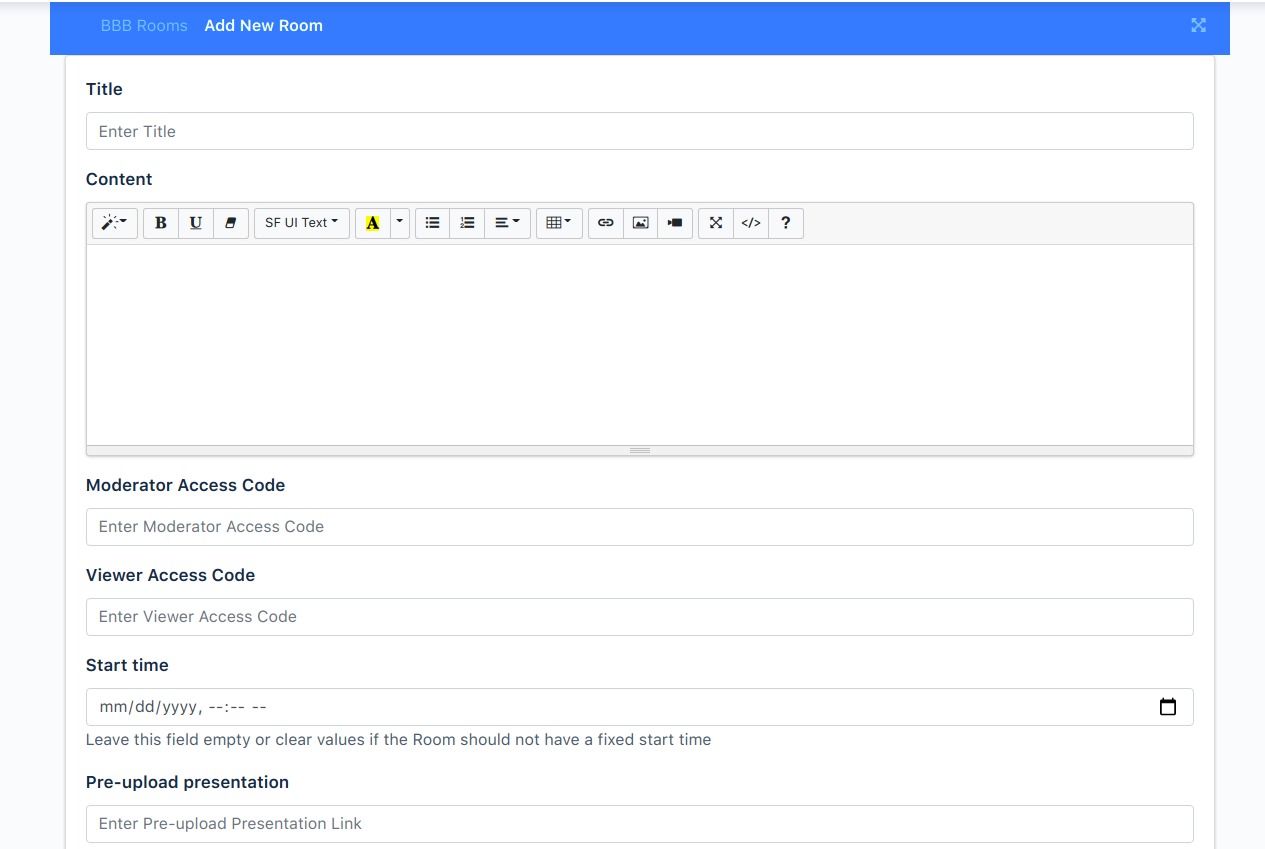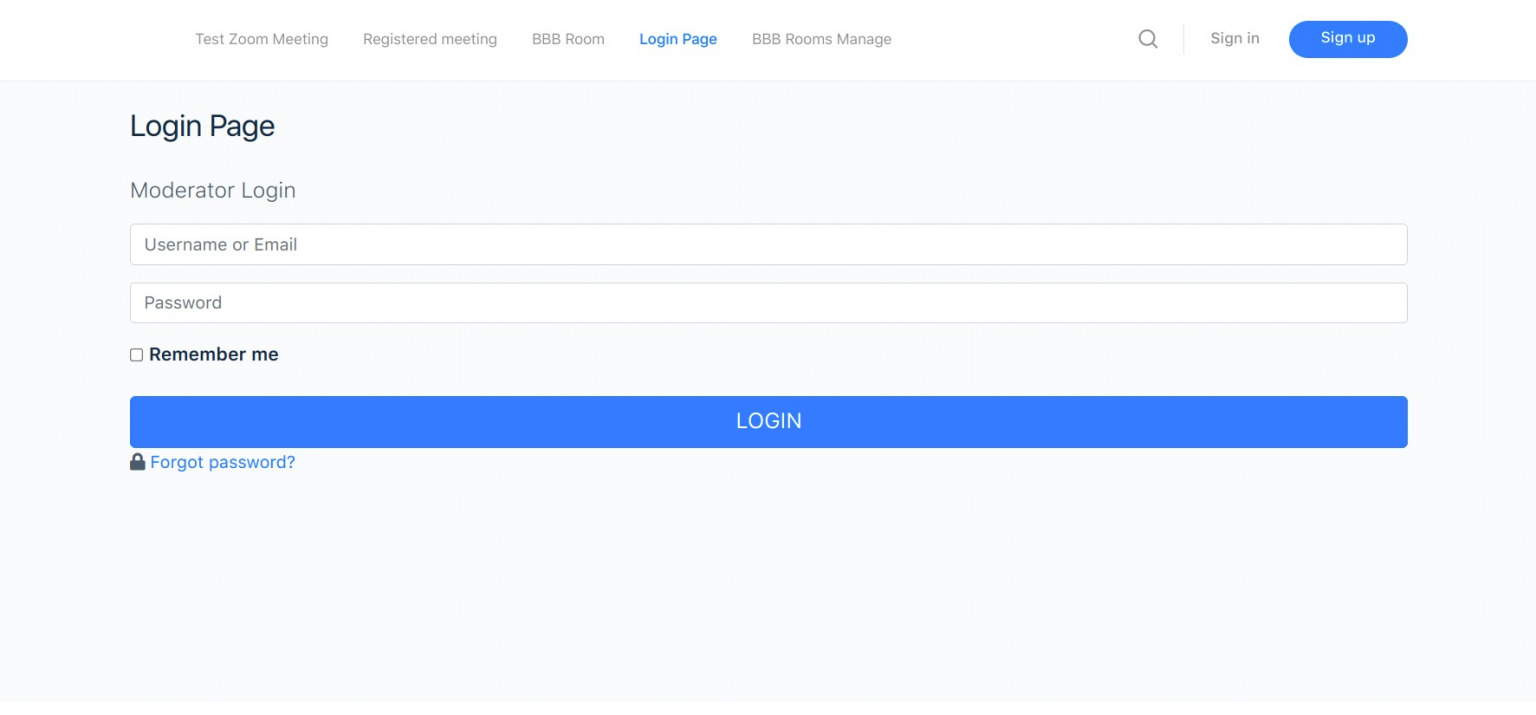 Features Across Web & Mobile Browsers
BigBlueButton client is pure HTML5 and runs on desktop, laptop, and mobile devices using iOS 12.2+ and Android 6.0+
There is no mobile app to download or install. BBB runs within the desktop & mobile browser
Unlike generic web conferencing systems, BigBlueButton is designed for online learning
Chat (public and private)
Randomly selecting a student
Emojis
Hand-raising feature​
Full-screen distraction-free mode
Room recordings
Multi-user whiteboard (a tutor can engage students using the multi-user whiteboard)
Upload slides (any PDF, Microsoft PowerPoint, Word, or Excel)
… And more features offered by BBB
The recordings are available in both free and pro plugin. It can be enabled on a per room basis. The past recordings display on the room page after the meeting ends.

The plugin automatically displays all the available recordings for the room.
If the user access is logged in via the WordPress administrator access, there is an additional control to either hide or delete a particular recording from the page.


Another feature of the Pro plugin is to offer the ability to set a scheduled start time for the class for sessions that would start on a future date.
The students will see the countdown screen until the class time has reached. The plugin will redirect students to the Room as soon as the countdown is over.
Restrict BigBlueButton WordPress Room
Restrict the BBB room access to users who are logged-in to your WP site, other users will have to enter the room access code
See the FAQ section to learn more about how the plugin works
Before you begin to conduct your virtual classrooms, it is required that you add the EndPoint URL and Shared Secret/Salt on the plugin settings page.
For this you will have to Purchase a production level BBB server.
To help you get up and running, we have created a list of our recommended BBB hosting providers.
License for 1 WP site + 1 dev site
License for 3 different WP sites
License for 10 different WP sites
License for 1 WP Multisite Network
License for 1 WP site + 1 dev site
License for 3 different WP sites
License for 10 different WP sites
License for 1 WP Multisite Network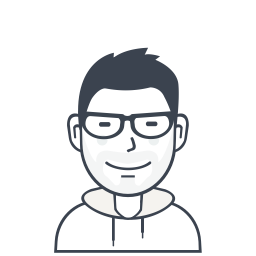 Michel Ambrosio
Great customer service and Refund policy
The signing process was super easy. I had some doubts whether the plugin was a good fit for my use, and sent an email, which was quickly responded. After trying it out, the Plugin missed a feature that for me was super important, and therefore i asked for a refund, which was quickly issued.
Want to join hands & help us resell the plugin?
Sign up as an affiliate & earn 30% on referrals
Get more with these powerful addons
Affiliate Disclosure: We use affiliate links in our content. It wouldn't cost you anything. However, it helps us offset the cost of producing the content and the offerings. Thanks for your support.
Video Conferencing with BigBlueButton Pro
Average rating:
1 reviews
May 1, 2022
The best plugin for managing BBB rooms
The best plugin for managing BBB rooms, you can't find any plugin like this to manage BBB rooms. User-friendly interface. It is efficient and easy to use. Highly recommend it!!!