Admin and Group Leader Can Now Respond To Student Feedback In LearnDash
This update enables the administrator and group leaders to respond to student feedback in LearnDash using the default WordPress comment option. I am pleased to announce this feature with the release of version 1.1 of LearnDash Student Voice.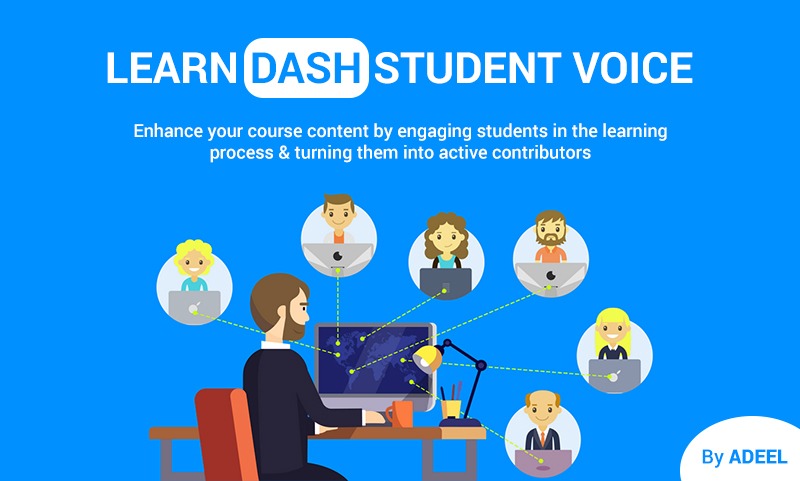 LearnDash Student Voice Version 1.1
This feature was requested multiple times and here it is now, now admin and group leaders have the option to respond back to student feedback from the backend. Simply navigate to Students Voice menu and select the individual feedback you want to reply back. The feedback detail page now shows a comment section as seen below, here you can add your comment. This response will be displayed for the student on their feedback page on frontend.
(The feedback page can either be viewed by a student on their my contributions page having this shortcode [sv_my_contributions]or by visiting the approved contribution that is displayed on the main course page once the contribution is approved)
Note: If you can't see the comments option on this page make sure you have checked the comments checkbox on this screen after clicking Screen Options


STUDENTS RESPONSE TO ADMIN/GROUP LEADER
The students will also be able to respond back to the admin or group leader on the feedback page. There is also a possiblity to add nested comments for both student and admin.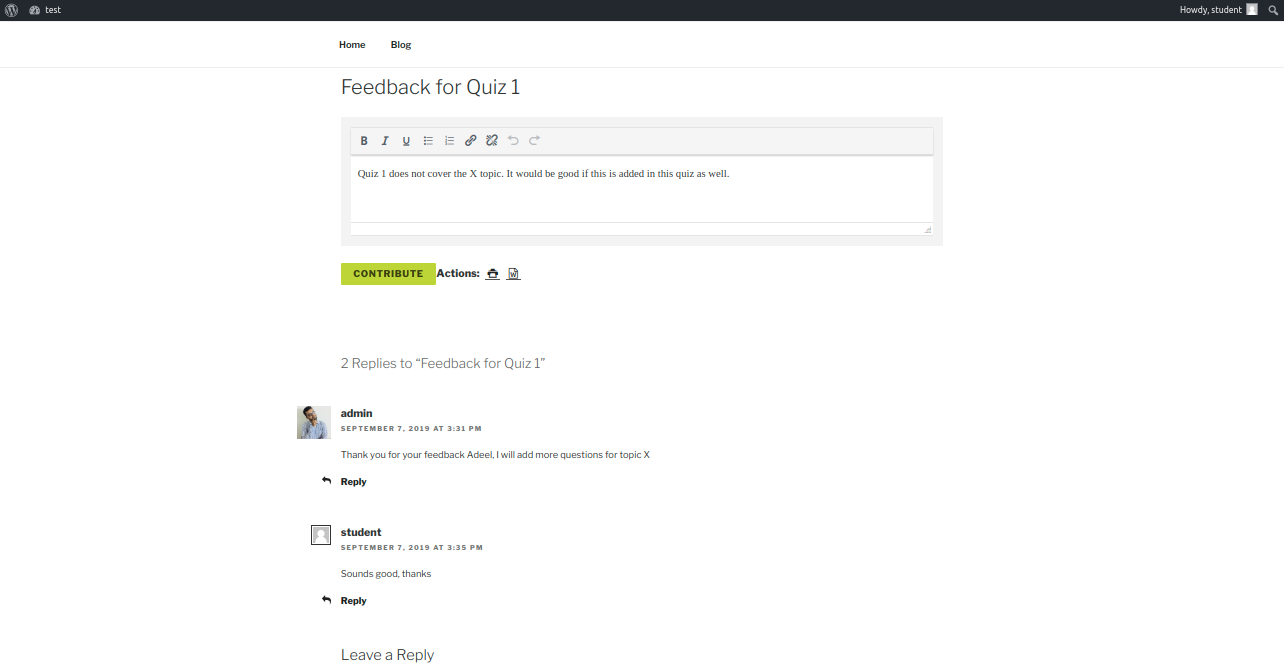 PRIVATE ADMIN/GROUP LEADER & STUDENT CONVERSATION
This update also provides an option to make the above conversation between Admin/Group leader and student as private. This will prevent any other student to see the conversation on the student voice feedback page. To enable this option head over to Settings -> Students Voice

NOTIFY REPLIES ON FEEDBACK
When admin responds to a student feedback they will be notified by default in WordPress. There is no extra step to configure email notification sent to students. However, when a student replies back to the admin there is one step needed to configure the email notification for admin. The student voice plugins adds an email trigger inside the LearnDash notification addon to send email notification to admin when a student replies back to a comment. There is also a dynamic shortcode added to display the contribution page link inside the email.
This is it, now admin and group leaders can respond to student feedback and have conservation on comments. They will also be notified via email on new comment.
BUG FIXES
Disable feedback on course with no access
This was a bug in the earlier version where the feedback button was displayed for students on course with no access. This is fixed in this new version and now the feedback button will only be displayed if the user has access to the course.
Enable group leaders to view student feedback on backend
The Learndash group leaders are now able to view the student feedback on the backend and respond to it from the backend dashboard.
VERSION 1.2
> See whats new in LearnDash Student Voice version 1.2
Note: Hope this update adds more value to your site and even further engagement for your students. If you have any suggestions feel free to comment below :)
Affiliate Disclosure: We use affiliate links in our content. It wouldn't cost you anything. However, it helps us offset the cost of producing the content and the offerings. Thanks for your support.