LearnDash Buyer's Guide: Features Explained!
This is a LearnDash Buyer's Guide where we explain the features of LearnDash. It's no secret that LearnDash is one of the most talked-about Learning Management systems among all WordPress LMS plugins.
With its focus on making the e-learning experience as smooth as possible, LearnDash is continuously evolving and is trusted by the most prestigious universities, fortune 500s, and other training institutions as their online course platform.
So, whether you want to quickly create free courses to share your knowledge, an employee training website to onboard new joiners, or a fully functional course marketplace like Udemy, LearnDash has just the right features for you!
Today we've rounded up the key LearnDash features to look forward to and how they help in creating full-fledged online courses for your learners!
Introducing the new and improved LearnDash 4.0!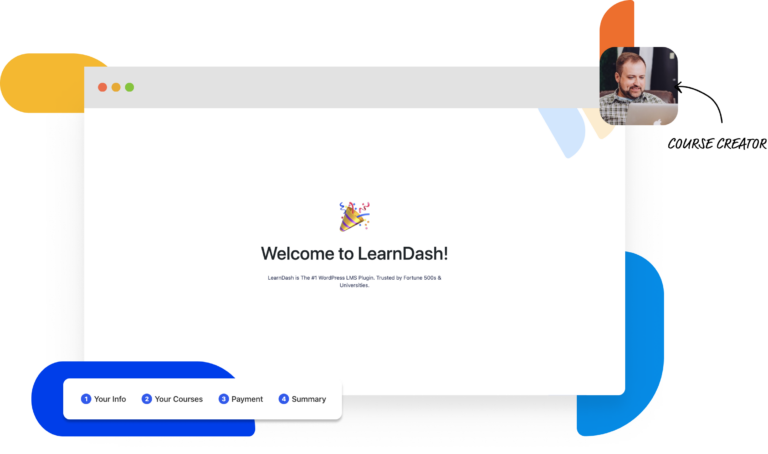 Learning never stops and LearnDash knows it well. The development team at LearnDash is always working on new features and enhancements to equip the course creators with the right set of tools they need to make a dynamic online learning experience.
And recently, LearnDash 4.0 was launched with an onboarding welcome wizard to set up your LMS in under 5 minutes and other impressive improvements. It will also offer to set up course registration pages as well as download a bunch of addons for you.
The new release also has an inbuilt integration for Stripe which you earlier had to install. So if you plan on accepting payments via credit cards then this feature is for you.
Additionally, the update also comes with challenge exams to check the knowledge of your learners before they attempt a course. If they pass the challenge exam, they automatically complete the assigned course and can successfully move on to a more advanced course
The full range of LearnDash features explained!

Smart and Interactive tools for easy course creation
Drag and drop course builder - To create courses in a snap, LearnDash comes with the best course builder in the market. It has a clean user interface and provides a smart and intuitive way to build courses. You can easily add sections, lessons, topics, and quizzes to your course content.
Additionally, audio and video files, presentations, and other interactive resources for your learners. Using the builder you can also rearrange the content by simply dragging and dropping modules.
Advanced quiz builder with question bank - The LearnDash quiz builder offers the best n quizzing. It provides a quick and easy way to add, edit and move questions in the quiz. You can choose from a variety of question types, insert any media, limit attempts, etc.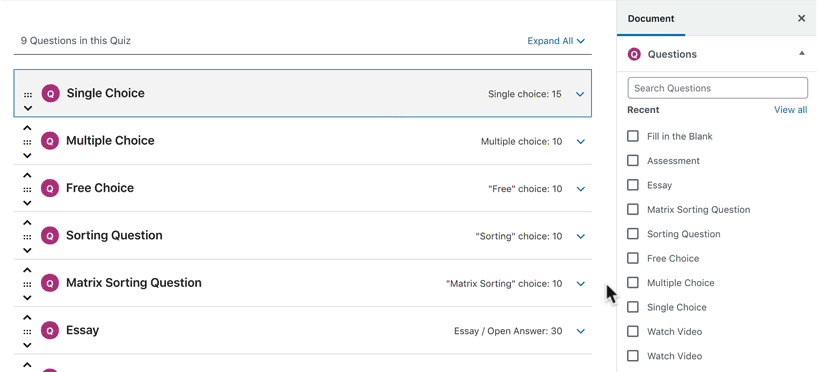 Drip feed lessons - Drip feed lessons just mean scheduled content delivery. Using this feature in LearnDash you can easily structure your content and display it at a specific time, day, or after some days. You can also use video progression that requires learners to view the videos in linear or open progression!
Option to set course requisites - You can change access to courses, lessons, and quizzes based on the prerequisites you set.
Focus Mode - This feature in LearnDash allows you to create a distraction-free environment for your learners.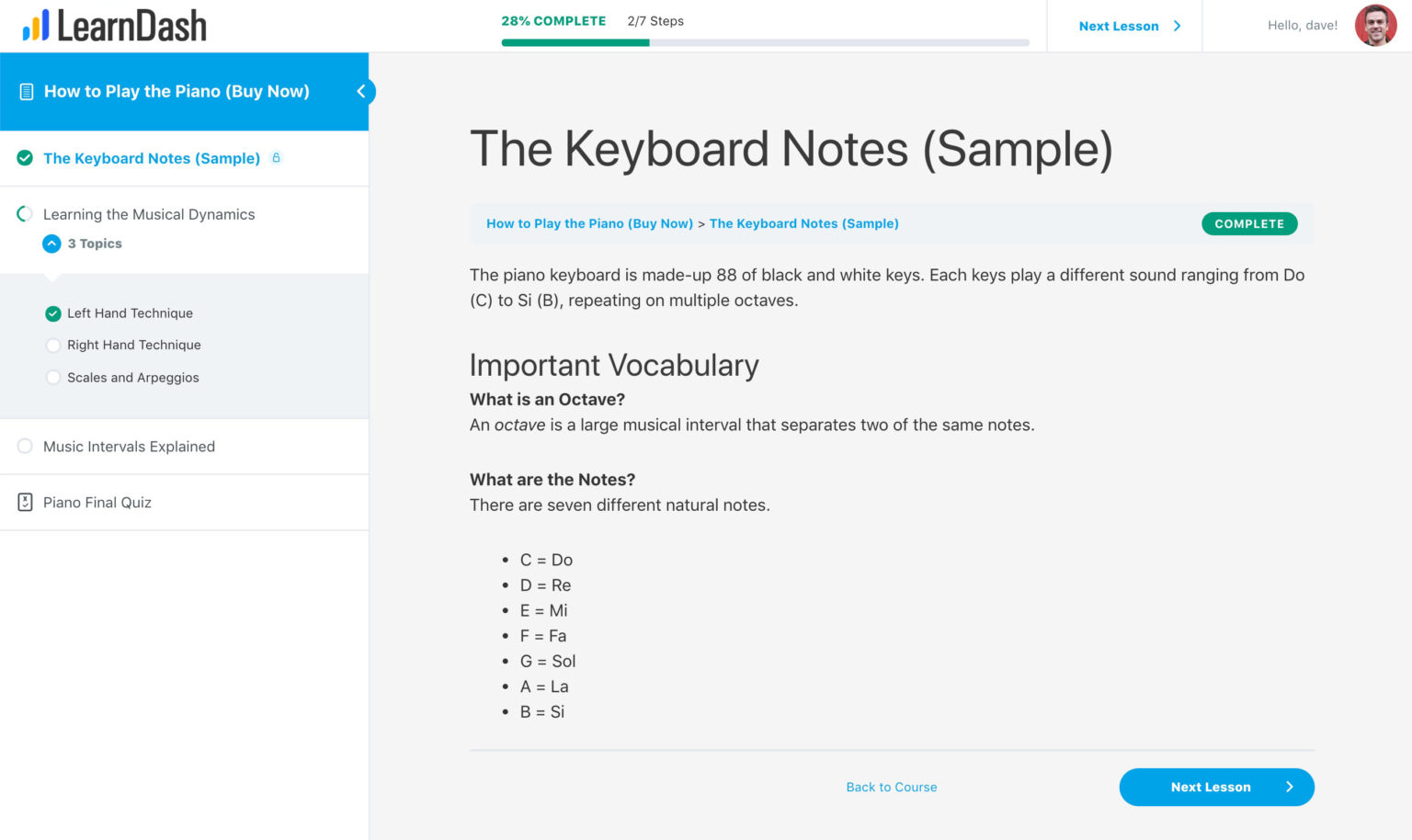 Gamification and discussion for an immersive e-learning experience
Certificate, badges, and course points - LearnDash allows you to offer official certificates and badges on successful completion of courses and quiz performance. Additionally, you can also award course points to learners whenever they complete a lesson and allow them to move to the next step!
Recommended: From Games to Gamification - How to Engage Learners on Your LearnDash Site
Leaderboards - This feature allows you to display your top-performing learners. You can easily mention the learners who get the best scores to maintain a healthy and competitive environment.
Discussion forums - This feature is a great way to engage in a conversation with your learners. You can add a course-specific discussion forum for your learners to interact with each other.
Login & Registration: LearnDash uses a customized "Login & Registration" process when the login and registration setting is enabled.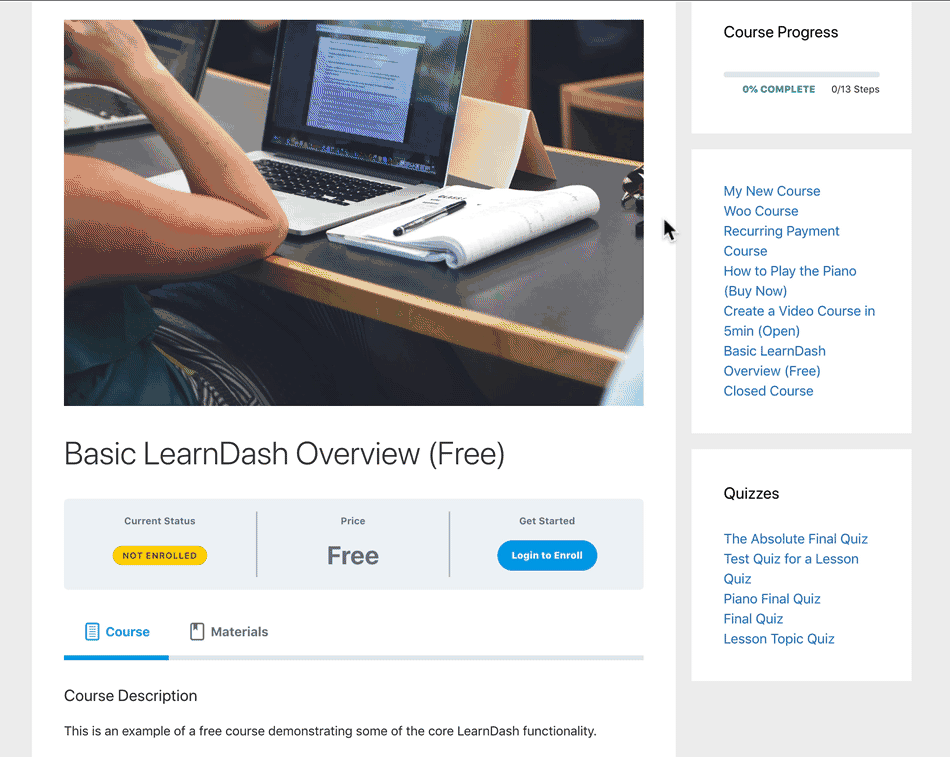 Automated workflows, progress reporting, and user management
Automated notifications - This functionality in LearnDash allows admins to trigger emails based on the learner's actions. Especially with LearnDash quizzes, both the admin and the user can get email notifications when a quiz is completed.

Performance reporting - LearnDash Plus and Pro Packages come with a nifty reporting module known as ProPanel. It comes with four reporting widgets namely, Overviews data, Reporting Data, Activity Stream, and Progress Chart. ProPanel helps track all LMS data and learner-related activities.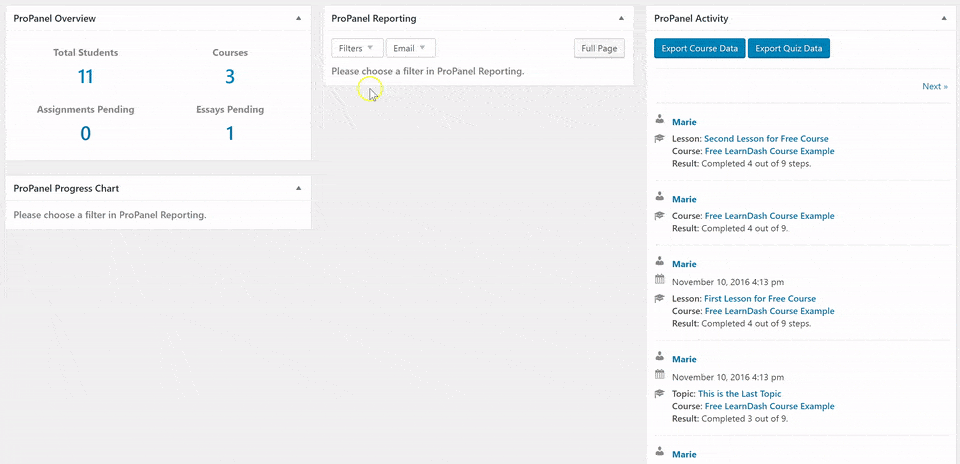 Using ProPanel, you can quickly:
See how your learners are progressing in the courses that they have enrolled in real-time.
Manage assignments and essay submissions from your students.
Use filters to get drilled down information about the course, quiz, or group performance
Send course-specific emails to the filtered users.
Download and share the progress with your learners.
The LearnDash user role - LearnDash uses default roles used by WordPress. For example, every new enrollment will be assigned as a 'Subscriber'. But, you can assign more than one role to a user at a time. You can assign the role of 'Administrator' and give access to edit the course content.
Group Management - Using LearnDash Groups to add multiple users to a group and assign the role of 'Group Leader' to track the progress of users in that particular group. In addition to this, each user gets their profile with all the basic as well as course and group related information displayed on the
Multiple course purchase setups to sell more courses
Marketing and sales - Using LearnDash you can set up one time as well as a subscription model to sell your courses. Just set a price or recurring payment and you're ready to go.
Memberships - This feature allows you to sell memberships instead of selling individual courses. You can create memberships that will contain access to multiple courses.
Course bundles and Bulk Licenses - In the case of multiple courses, you can create bundles in LearnDash and even run a flash sale. You can allow customers to purchase licenses in bulk and then grant access to the entire group of users!
Note: You can use any payment gateway and add a shopping cart experience for your courses as well! All you need is a shopping cart integration like WooCommerce or EDD.

Integrations, compatibility, and flexibility!
Works with any theme and page builder - LearnDash works with all the modern themes and page builders like Beaver Builder, Divi, etc.
Note: To get you up to speed, LearnDash now also comes with Starter site themes that are ready to use and can be customized according to your brand image.
Tons of add-ons and extensions- To extend the functionality of your learning management system. LearnDash comes with loads of free and premium native as well as 3rd party extensions that can be integrated very easily for new features.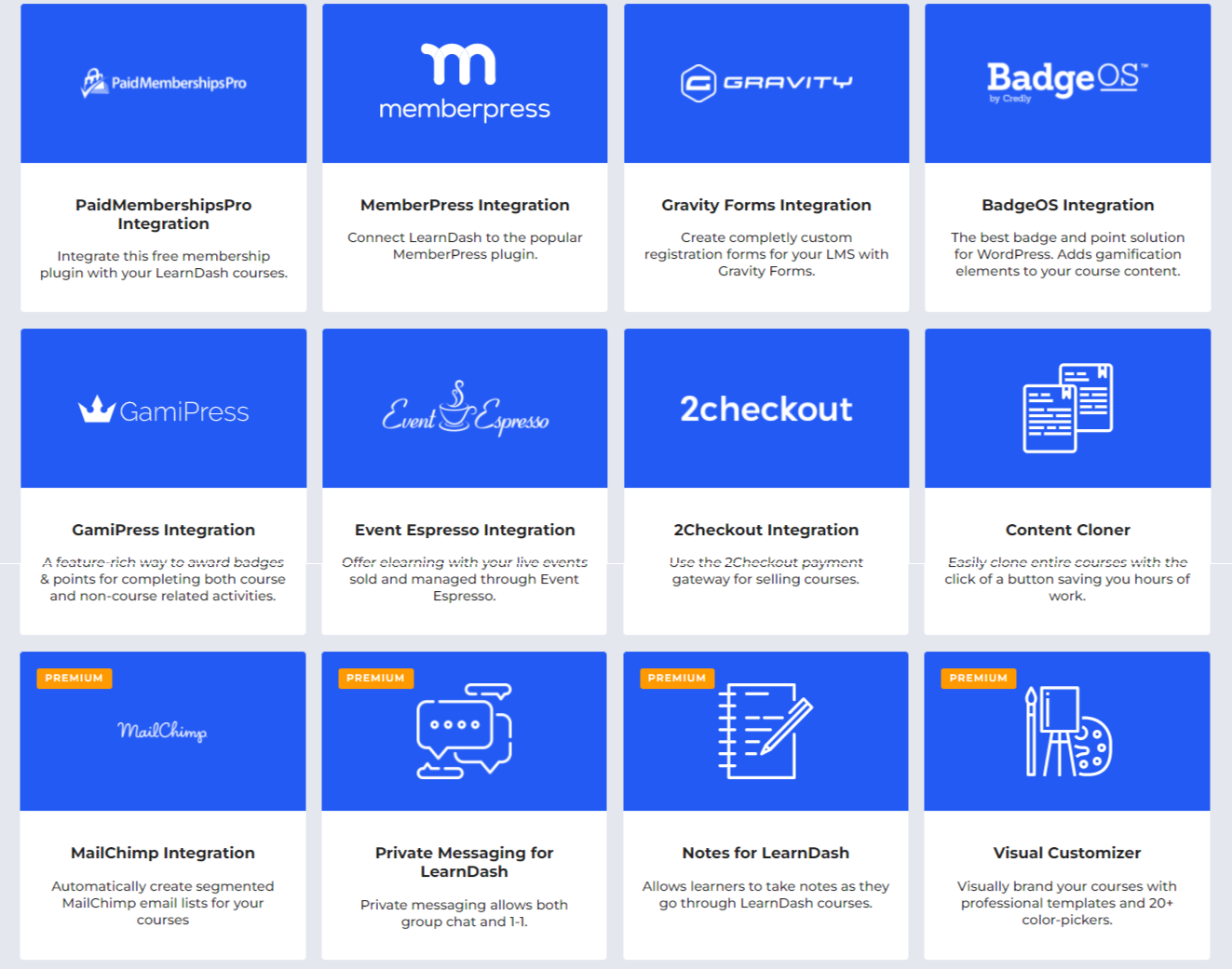 Easy Customizations - LearnDash is an open-source platform so it's easy to create custom features or functionality by tweaking the code.
Want to customize LearnDash quizzes?
Note: You may need the help of a developer for customizations.
Supports all media and course authoring tools - LearnDash courses can include all types of audio, video, and text files. It also supports SCORM, xAPI, HTML5 packages, and any other media that can be inserted with <iframe> or <script>.
Mobile-Friendly - LearnDash courses are accessible from tablets, smartphones, and other mobile devices too.
LearnDash features are for all kinds of users!
From entrepreneurs to training organizations, LearnDash is designed with the latest learning principles to fit everyone's needs
With LearnDash, designers & developers get access to thorough developers docs, Rest API settings, hooks, and filters as clients often request to modify the style or develop a custom feature.
Additionally, educational Institutions use LearnDash to design professional degrees and diplomas.
The End
To sum it up, the core LearnDash plugin comes with a lot of features and functionalities to create, sell and manage courses online. It's easy to use, offers a clean user interface to navigate through the dashboard, and can be used by anyone.
From private tutors to major universities, LearnDash features are appreciated for providing only the best in e-learning.
Want to learn more? You can download our free guide with 44 tips and tricks to get the most out of LearnDash features.
We hope this article helps you understand the features and that you take LearnDash up for a ride!
Don't forget to comment on your favorite LearnDash features below!
---
Please note that this is a guest post by WisdmLabs
Affiliate Disclosure: We use affiliate links in our content. It wouldn't cost you anything. However, it helps us offset the cost of producing the content and the offerings. Thanks for your support.